The Parish Office, 1 Halmer Gate,
Spalding, Lincolnshire, PE11 2DR
Tel 01775 722772


A Short History of the Church
The Parish Church of St Mary & St Nicolas was built by the Benedictine Priory which existed in Spalding from 1051 until its dissolution in 1540. The foundations of the present building were laid in 1284 by Prior William de Littleport, to replace the earlier parish church which was situated on the Priory boundary, on the site of the present market place.
The building incorporated part of the Chapel of St Thomas the Martyr. The foundations are still visible at the exterior of the present chancel. The building was completed in cruciform shape by Prior Clement Hatfield, prior from 1293 to 1318. It consisted of an aisled nave with six bays, aisled transepts of two bays, a chancel without an aisle and a bell tower.
In 1360, the west aisle of the south transept and the south aisle of the nave were widened, and the outer south aisle added. Also, at this time, the south porch and the tower were built.
More alterations were carried out in the fifteenth century when the rood staircase and screen and the clerestory windows were added.
The medieval glass, statues and brasses did not survive the changes brought in by the Reformation and the Puritan ministers of the church in the seventeenth century.
High box pews with galleries above them and a three-decker pulpit were installed during the eighteenth and early nineteenth centuries. These features were removed during the extensive restoration in 1865-67, under the direction of Sir George Gilbert Scott.
The twentieth-century additions included four modern stained glass windows, the decoration of the chancel ceiling, rebuilding and re-siting the organ, the shop and visitor centre, and a vestry on the south side of the chancel.
In 2013 the West Door became the main entrance to the church with a new internal porch. A stone floor was laid after the pews near the back of the church were removed. The steps around the font were also removed.
1n 2017 a servery was constructed in the south-west corner of the church. It was designed blend in and to be as inconspicuous as possible when not in use. It has already proved a valuable addition.
The Johnsons
John Johnson bought Ayscoughfee Hall in 1658. His daughter Jane married Maurice Johnson and he became the first of six Maurice Johnsons to live at Ayscoughfee Hall in direct succession.
There are many memorials to members of the Johnson family in the church. There are also eight hatchments associated with members of the Johnson family.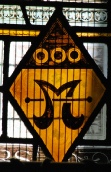 There are publications on sale in the church about the hatchments and memorials.